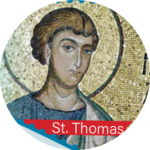 St. Thomas gained three very great blessings for us. First, we hear about an apostle who doubted but believed when he saw Jesus. This helps our belief. Next, we hear him proclaim that Jesus is God. We know how great our Savior is. Finally, Jesus gives us these beautiful words, "Blessed are those who have not seen and yet believe."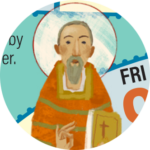 St. Augustine Zhao Rong is the only saint with an optional memorial to be included in our saints' gallery this month. Not too much is known about St. Augustine but his story is the story of every Christian. He was a soldier in China who came to know Christ through an encounter with a holy man. St. Augustine transformed his life and gave up everything for Jesus. In the end, he gave his life in martyrdom. Each one of us has come to know Jesus through someone who has been our guide. Then we must make the decision to live a new life and to give everything into the hands of our loving Father.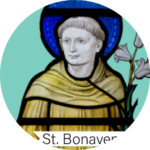 St. Bonaventure was born Giovanni. But when he was a young boy, he was cured of a serious illness through the prayers of St. Francis. St. Francis cried out, "O Buena Ventura" which means Good Fortune, and this became Giovanni's new name. Bonaventure became the seventh minister general of the Franciscans.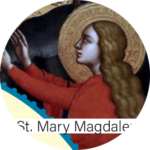 St. Mary Magdalene is known as the Apostle to the Apostles. Apostle means one who is sent. Mary was rewarded for her great love and faithfulness. She stood by the cross of Jesus and also came to the tomb very early on Easter morning. Since she loved so much, she was able to see Jesus before the apostles did and to be the one to tell them the good news.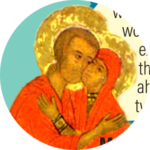 St. Anne and St. Joachim are the grandparents of Jesus and the parents of the Blessed Virgin Mary. Mary was immaculately conceived which means that Mary was always free from any sin. Jesus wanted to give us a holy mother who would be able to help us by her good example and by her prayers. St. Anne and St. Joachim can also help us with their prayers.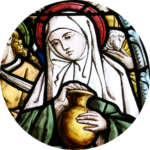 St. Martha is known for two things: complaining that her sister wouldn't help her with the work and saying she believed in the Resurrection even when her brother had died. So even if you complain about your work, you could one day have great faith and be a saint.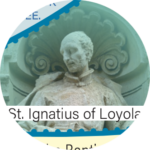 St. Ignatius Loyola was a very proud soldier who was seriously wounded when a cannonball struck his leg. At first, he was worried about regaining his good looks. He even went through painful surgeries to try to make his legs look handsome. Since he had so much time in bed with nothing to do, he began to read books about Jesus and about the saints. After much reading, he decided that he would like to love Jesus and be a saint. He founded the Jesuit order which sent missionaries all over the world to tell people about Jesus.
He wrote this prayer:
Take, Lord, and receive all my liberty, my memory, and my entire will, all that I have and possess. You have given all to me. To you, Lord, I return it. All is yours; dispose of it wholly according to your will. Give me your love and your grace for this is sufficient for me.
image credits: T. Schluenderfritz, Marie-Lan Nguyen/CC BY-SA 2.5, Brooklyn Museum, Lawrence OP/CC BY-NC-ND 2.0, José Luiz Bernardes Ribeiro/CC BY-SA 4.0, Jim Forest/CC BY-NC-ND 2.0, Lawrence OP/CC BY-NC-ND 2.0, Livioandronico2013/CC BY-SA 4.0