How can someone put the words Easter and penance together? Isn't Lent all about sorrow and penance and Easter all about joy and freedom?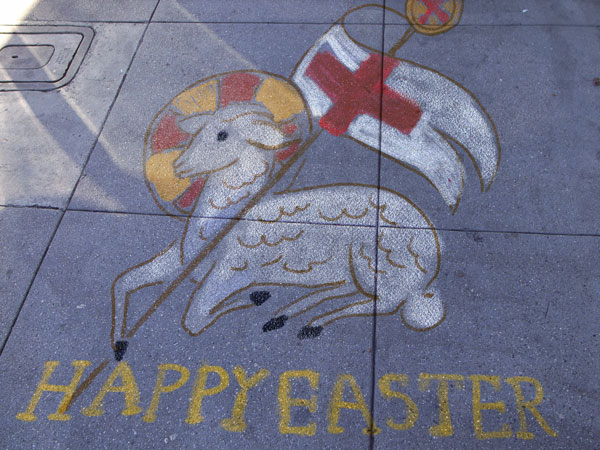 Lent is a time of preparation. We prepare to celebrate Easter with joy. But while it seems like most of us are pretty good at coming up with ways to do penance during Lent, we have a harder time figuring out how to live in continuous joy. Easter is 50 days, but it seems that for most of us the joy fizzles out after a short time and we are back to ordinary life.
So how can we practice Easter joy? Joy is different than fun or self-indulgence. If you attend too many parties or eat too many chocolate Easter bunnies, you probably won't have any joy. You'll probably just have weariness—and possibly a stomachache.
If we can have practices to help us enter into the spirit of Lent, why shouldn't we have practices to help us live Easter joyfully? Perhaps we shouldn't call these practices "Easter penance" but rather Easter repentance. Repentance means a turning away from our old ways of seeing and doing things. The disciples had to do just that on the first Easter. We as Christ's disciples must do the same today.
We can use the same categories that we used during Lent but with a different spirit. Prayer, fasting, and almsgiving are the tools of every Christian. But how we use them during Easter might look a little different.
Prayer: During Easter let your prayer be focused on praise and thanksgiving. You could sing together as a family, play Easter music, and pray the Psalms that are particularly focused on praise. (Psalms 145-150 are a good place to start.) Perhaps you could even memorize a psalm or a song. On Fridays you could pray the Stations of the Resurrection. As Easter time moves into May, the month of Mary, a very good song to sing is "Be joyful, Mary, Heavenly Queen".
Fasting: You could try to spend a day without complaining! Fast from negativity, critical talk, and grumbling. Instead, spend a day complimenting others and speaking positively. You could also sacrifice some of your time to serve others. Fast from electronic devices and read a good book together as a family. Give up part of your Sunday to discuss the readings from Mass. Instead of buying something expensive to eat, use some simple ingredients and make a meal together from scratch.
Almsgiving: Give others a gift of attention. Many people are longing for human contact. Really listen when others are talking to you. Smile at people. Send a letter or visit somebody who is lonely. One way to bless people with some joy in their lives is to create impermanent art in a public place. Such art isn't meant to last; rather, it represents a sacrifice of time and attention. For instance, make some beautiful chalk drawings on your sidewalk or stack small rocks at a park or natural area. See our article Tapetes de Aserrín: The Carpets of Sawdust.
These are just a few ideas to get you started. If you have any great ideas you'd like to share, please use our contact form to let us know what they are. We look forward to hearing from you!