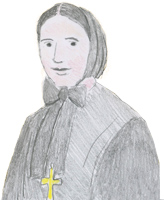 Mother Cabrini is one of my favorite saints. I chose her as my confirmation name when I was confirmed in 2016. She was obedient to Pope Leo XIII when he told her to go to the United States even though she wanted to be a missionary to China. I wanted her to help me to be obedient.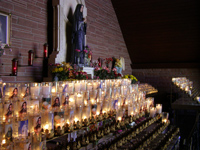 In 2012, my family and I visited the shrine of Mother Cabrini here in Colorado and drank some of the miraculous spring water. Mother Cabrini purchased the property where the shrine now stands as a summer camp for her orphans. When she bought it, the only water source was a pond and the sisters had to haul water from it. They complained to Mother Cabrini that there wasn't enough water and they were getting tired of carrying it. She told them to go and dig in a certain spot where they would find a spring. They did as she said and found a spring that had not been known to exist before.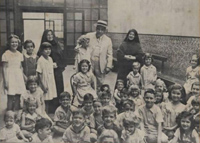 Mother Cabrini carried out Christ's work in many other places including New York, Illinois, Louisiana, New Jersey, Pennsylvania, Washington, Oregon, Argentina, Brazil, Chile, and Nicaragua. Even though she had a fear of water and often experienced seasickness, she crossed the Atlantic around 30 times. Everywhere she went she set up orphanages and schools and cared for the sick and poor. She lived her life in love. She spent her last day making Christmas candy for the local children.
Here is a puzzle in honor of Mother Cabrini. We'll post the answers here once we post a new puzzle.