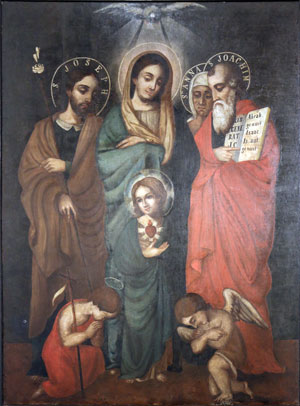 St. Ann and St. Joachim are two very interesting saints. We don't really know anything about them except that they are the parents of Mary and therefore the grandparents of Jesus. I like to think about the fact that Jesus had grandparents. He really is one of us! He even has the beautiful blessing called grandparents.
St. Ann has become a special patron of many cities from Santa Ana, California to Santa Ana, the Philippines, and from Santa Ana, El Salvador to Sainte Anne Island, Seychelles. The children of God think that since God's mother is concerned about us and our troubles, then his grandmother certainly will be, too.
My relationship with the grandmother of Jesus started when I lived just a few blocks away from the Basilica of St. Ann in Scranton, Pennsylvania. In 1904, a group of Passionists built a monastery in Scranton and called it St. Ann's. But a problem lurked underground. Many coal mines had been dug beneath Scranton, and the one below St. Ann's started to collapse. In 1911, the mine's subsidence damaged the monastery. Further damage caused the Passionists to evacuate. It looked like the monastery would be destroyed by a landslide. On the 28th of July 1913, the priests and laity knelt all night praying. Suddenly, there came a loud rumbling followed by silence. Instead of a slide, two large boulders had moved into place to support the monastery.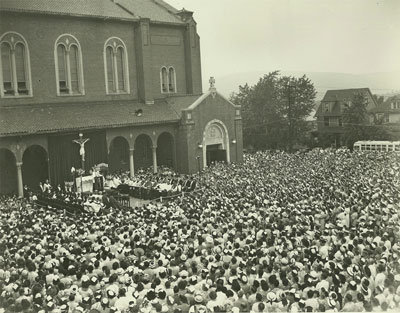 Shortly after this, some people asked the priests if they could participate in their weekly novena to St. Ann. Soon, so many people were coming that the monastery could not hold them all. A large tent was put up outside but eventually, this was not enough, and in 1929, a large church was built next to the monastery.
Since that time, the novena has been prayed five times every Monday; it is accompanied by Masses and Eucharistic Adoration. During the solemn nine-day novena in July, pilgrims come from across the United States and Canada.
While we lived in Scranton, we attended many weekly and Solemn novenas. It was so wonderful being part of such a celebration in honor of a very hidden saint, the grandmother of Jesus.