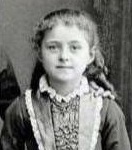 St. Thérèse said that we are like little children who need their parents' help to climb the stairs. We want to become saints, but we can't become saints on our own. We depend on God for everything. We can't do anything without his help.
Sometimes, though, we think that we can do things on our own. When we try, we always fail. If little children pushed away their parents' help they wouldn't get very far on their own. St. Thérèse said that our littleness should actually make us happy; we should be glad to receive everything from God.
When we are happy to receive everything from God and realize that we can't do anything on our own, we don't have to be constantly worrying about ourselves. Instead, we can spend more time thinking about other people and trying to help them. If we know that everything we have is a gift from God, we will be eager to give gifts to those around us. We don't need to hoard things; God has plenty for everyone. In this way, we become "poor in spirit", and as little children, we can enter the kingdom of God.