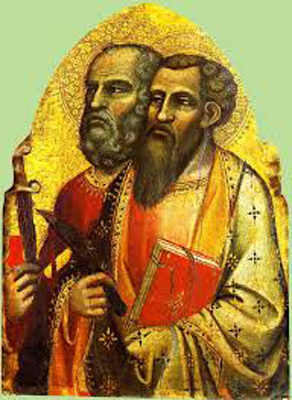 Have you ever thought, Poor Simon? He is paired with the famous St. Jude, the helper to turn to in impossible cases. St. Jude is venerated by many. His image and name are seen in numerous institutions and organizations.
It's the same way with groups of martyrs. It's St. So-and-So and Companions. But usually, no one gives the companions a thought.
At least, Simon gets named first. But somewhere along the line, St. Jude captured the imagination of the Catholic faithful and Simon was left behind.
Everyone always wants to be noticed and to make a name for themselves. But it's different in Heaven. Once you've arrived in Heaven, there's no more striving. You are known and loved and there is peace.
So perhaps we can think of Simon and Jude companionably together. Simon rejoices in the honor given to Jude and Jude asks Simon to join him in his work of intercessory prayer.