The Saints and Their Love for Mary
St. Marie-Catherine de Saint-Augustin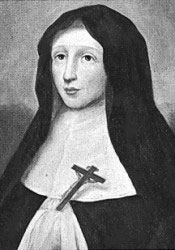 Marie-Catherine chose Mary as her traveling companion in this life and therefore Mary helped her to travel safely to Jesus in Heaven. Marie-Catherine was devoted to the care of the sick and the poor even when she was a child.
After she joined an Augustinian order, she decided to go to New France which is now part of Canada. In those days, ship voyages were often very dangerous. During Marie-Catherine's journey, plague broke out on the ship. Marie-Catherine became ill and was on the point of death when Mary appeared to her and healed her.
Marie-Catherine dedicated the rest of her life to caring for the poor and sick with great kindness. Mary continued to be with her in her mission of announcing the Good News of Jesus to the poor. Marie-Catherine is honored as one of the co-founders of the Catholic Church in Quebec.