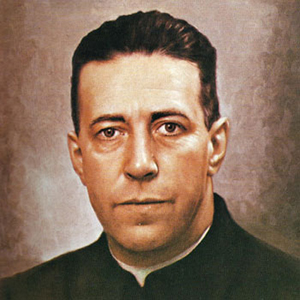 This is one of the Jesuit saints who appear in the Benedictine and Ignatius scramble.
At the House of Christ in Chile are these words, "To Father Alberto Hurtado, Apostle of Jesus Christ and servant of the poor, friend of children teacher of youth. Prophet of justice and refuge of the most destitute."
Alberto Hurtado knew what it was like to be poor. His family was poor and he had to overcome many difficulties to receive an education and eventually enter the Society of Jesus.
He was ordained in 1933 when he was 32 years old and spent the next 19 years working joyfully for the poor and oppressed. Many people were attracted to him because of his great joy and enthusiasm for the Gospel.
When he died, thousands mourned the loss of their father. Yet true to his spirit as he was dying he said, "I am happy, Lord."